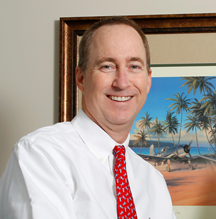 Howard
Douglas, CFP®
Vice President / Investments
For 21 years, I've been helping people plan for the future.
I strive to understand my clients' retirement goals and enjoy developing an investment plan to help them pursue those goals.
I've had the Certified Financial PlannerTM (CFP®) professional certification for 15 years. I was trained as a mechanical engineer, so I understand that small decisions make a large difference over time.
I joined Stifel with the opening of the Charlotte office in 2009 (it's pronounced "stee-ful"). Stifel's been around for more than 125 years, and I believe there's no better firm in America. My partners are David Younts and Brad Richardson. Together we're on a mission to build and preserve wealth for our clients.
We only do what we feel is best for our clients, and we don't have proprietary products to sell them.
We want lifelong relationships. To do this, we must be productive with our clients' assets, completely honest, and offer the highest level of service. We intend to do just that.
Personally, I graduated with honors from Georgia Tech (Go Yellow Jackets!) and earned an MBA from UNC-Charlotte. I play the guitar to relax and fly large radio-controlled aircrafts for kicks. I've been married for 25 years to a wonderful woman who loves our family and her two horses. We've graduated our oldest son from NC State, and he's now Lead Account Executive at a technology start-up as well as the owner of W.H. Douglas Custom Clothing, Inc. My daughter and I earned our black belts in karate! 
Give me a bull market and a chair on the beach in Hilton Head with my family, and I'm a happy man.